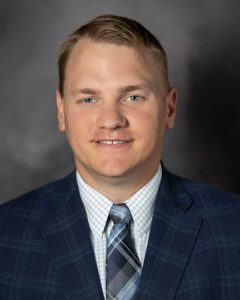 Muncie, IN November 18, 2014 – Beasley and Gilkison LLP is pleased to announce that Mr. Benjamin J. Freeman has joined their law firm and will commence practicing law as an Associate.
Mr. Freeman graduated from Ohio Northern University with a Bachelor of Science and Business Administration in 2009. Mr. Freeman earned his Juris Doctorate from the University of Dayton School of Law in Dayton Ohio, Magna Cum Laude, and was a seven-time C.A.L.I Award winner for highest class grade. Prior to attending law school, Mr. Freeman worked in banking as a lender and brings significant banking experience, particularly in business and agricultural lending, to the firm. Ben will focus his practice primarily in business and banking law in addition to family law and estate planning.
Mr. Freeman is a member of Jay Lodge #87 Free and Accepted Masons, as well as, an Alumnus of Sigma Theta Epsilon. Mr. Freeman's wife, Whitney, who is expecting the couple's second child in December, teaches English at Jay County High School.
Beasley & Gilkison is pleased to welcome Benjamin to the Firm and looks forward to strengthening our legal team for the benefit of existing and future clients in East Central Indiana and beyond.
Beasley & Gilkison LLP has been serving Muncie and surrounding counties for over 125 years.  Partners include William V. Hughes, J. Philip Updike, Mark A. Ervin, and Sara E. Shade.  Andrew R. Bloch and Jonathan P. Nagy are Associates.  Frank E. Gilkison, Charles V. Retherford, Jack E. Buckles, and Diane Hubbard-Kennedy are of counsel with the Firm.